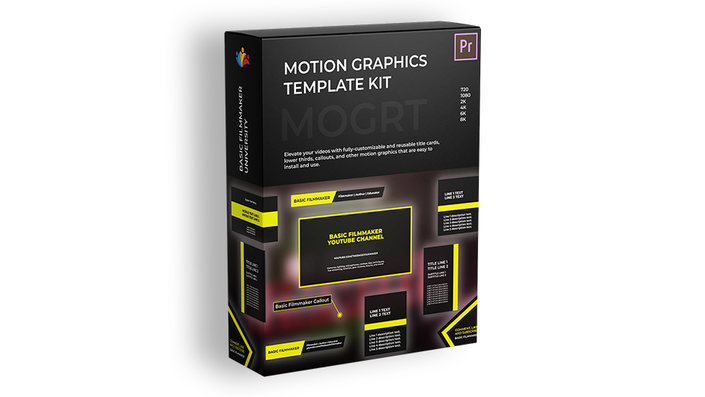 Premiere Pro Motion Graphics Kit (MOGRT)
A COMPLETE, FULLY CUSTOMIZABLE and EASY TO USE motion graphics kit for Premiere Pro to enhance all your videos.
Get It Now
ACT NOW - GET 70% OFF AND PAY ONLY $14! USE THE CODE BFMMOGRT70OFF AT CHECKOUT!
The way to make your videos more professional is by adding lower thirds, callouts, title cards, half cards, and more.
These have always been a pain to construct and use, and all the other kits I've purchased always had something missing or some sort of limitations.
I finally decided to make my own kit that includes everything, fully customizable, and most importantly, easy to use.
You can modify nearly everything - fonts, styles, opacity, colors, skew, roundness, and more, for all the elements for each type of asset.

Need callouts? Place the point where you want it, position the text on the screen, and the callout motion graphic handles all the rest.
Each asset can be used in any size video - 4K, 1080, 720 without having separate elements for different video sizes. 6K and 8K? No problem.
I show you how to install and get up and running right away, PLUS, when you customize the graphics to your own brand or scheme, I show how they can be made reusable video after video.
Additionally, I'll be adding more features as needed, and unlike other kits and templates, I'll make all updates and upgrades available to you absolutely free of charge for life.
I've removed all the barriers and problems so you can save time, improve your videos, and make them look more professional like I did.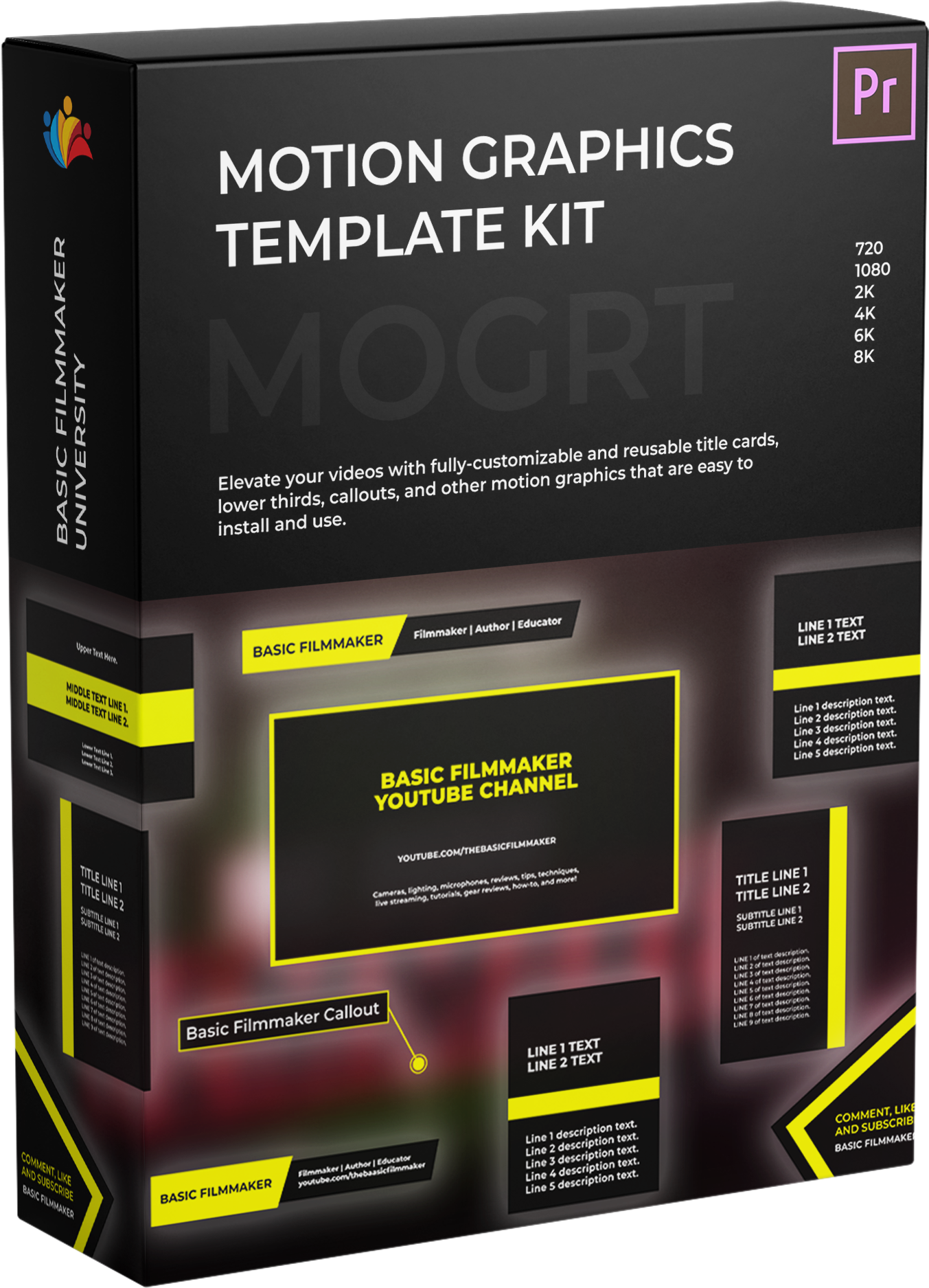 Not convinced? YOU CAN WATCH ALL of the tutorial and usage videos below, no charge, and see all this kit can do!
Here's What You Get
PREMIER PRO MOTION GRAPHICS KIT
Available in days
days after you enroll
COMMENTS/REQUESTS?
Available in days
days after you enroll
Your Instructor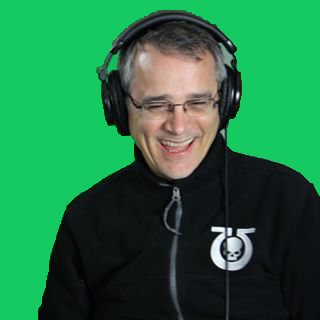 ABOUT ME

HELLO!

I'm Kevin, and many know me as the "Basic Filmmaker."

I'm more interested in what other people have to say than I am talking about myself, but you're reading this so you most likely want some creds,

Cool. Here you go...

BACKGROUND


For over 30 years I've trained tens of thousands of people on the basics of just about everything using a teaching method that is simple, effective, hands-on, and fun.

I've been able to maintain multiple careers in filmmaking, commercials, education, design, fundraising, music, and published author.

I was the President and Dean of a company's "university" which developed all internal/external courses and corporate training programs; ran a successful company consulting and training CEOs, business owners, entrepreneurs, athletes, musicians, directors, and actors/actresses from over 13 different countries; contributed to the design and development of management, educational, and video editing software programs, and completed over 1,000 training programs and internships.

I've produced over 500 commercials, instructional videos, non-profit fundraising properties (which helped make tens of millions of dollars), produced hundreds of training videos for clients, published books, and narrated audiobooks for Amazon.

CURRENT

I run the Basic Filmmaker YouTube channel (among others) which has 100,000+ subscribers growing rapidly every day. I'm proud to say on that channel alone, close to 5 million people the world over have watched nearly 20 million minutes of my instructional videos.


I maintain another YouTube channel, a closed Facebook group, various social media channels, and of course, Basic Filmmaker University, which provides thousands of creators assets, consulting, training, and online courses to help them succeed.

And...I'm done! :)

Kevin (Basic Filmmaker)